This is a basic guide, prepared by ACCA's Technical Advisory team, for members and their colleagues or clients. It's an introduction only and should not be used as a definitive guide, since individual circumstances may vary. Specific advice should be obtained, where necessary.
The message from the Chancellor was that this is a Budget with three aims:
protecting the jobs and livelihoods of the British people
strengthening the public finances
supporting an investment-led recovery
You can read the individual measures and details of some of the numerous consultations below.
Rates and allowances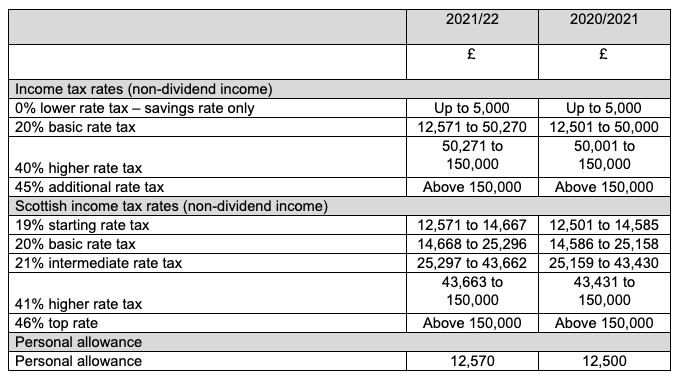 Capital gains tax annual exempt amount (after personal allowance)
These are frozen at £12,300 for individuals and £6,150 for trusts.
Dividend allowance
The tax-free dividend allowance is unchanged at £2,000.
Corporation tax
The corporation tax rate will remain at 19% but from April 2023 the applicable corporation tax rates will be 19% and 25%. Businesses with profits of £50,000 or below will still only have to pay 19% under the small profits rate.
Grants – restart
'Restart Grants' are available in England of up to £6,000 per premises for non-essential retail businesses and up to £18,000 per premises for hospitality, accommodation, leisure, personal care and gym businesses
Grants – export
The SME Brexit Support Fund grant provides up to £2,000 to help with training or professional advice.
Enhanced capital allowances: super deduction
This introduces increased reliefs for expenditure on plant and machinery. For qualifying expenditures incurred from 1 April 2021 up to and including 31 March 2023, companies can claim
in the period of investment:
a super-deduction providing allowances of 130% on most new plant and machinery investments that ordinarily qualify for 18% main-rate writing-down allowances
a first-year allowance of 50% on most new plant and machinery investments that ordinarily qualify for 6% special rate writing down allowances
Annual investment allowance (AIA)
Companies will be able to claim £1m as AIA for expenditure incurred from 1 January 2019 to 31 December 2021. The announcement was made in November and before the 'super deduction'.
Apprenticeship funding
Apprenticeship incentive payments for employers will increase to £3,000 per new hire until September 2021.
Making tax digital (MTD)
There were no announcements on MTD except that the government will publish an evaluation on the introduction of MTD for VAT, expected on 23 March.
VAT